Have fun with friends as you enjoy an energizing workout in our Group Fitness classes at Oak Creek Fitness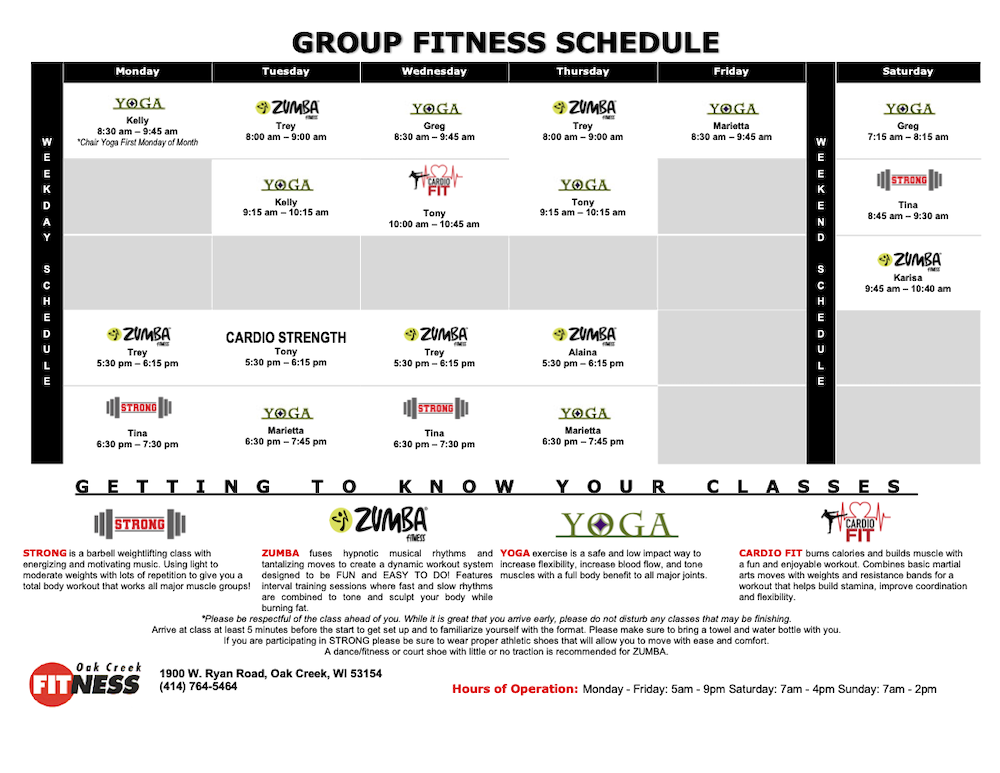 We offer a wide selection of courses that fit every experience and fitness level. Classes are offered at a variety of times nearly every day of the week. And not only do you get to workout alongside friends, our classes are led by certified instructors who are some of the best you can find!
HERE'S YOUR CHANCE TO TRY ONE OF OUR EFFECTIVE GROUP FITNESS PROGRAMS AT OAK CREEK FITNESS! YOU'LL SEE RESULTS, FAST!
STRONG is a barbell weightlifting class with energizing and motivating music. Using light to moderate weights with lots of repetition to give you a total body workout that works all major muscle groups!

Yoga is a safe and low impact way to increase flexibility, increase blood flow, and tone muscles with a full body benefit to all major joints. Through a series of poses and postures - each of which has specific physical benefits - Yoga creates balance in the body through developing strength and flexibility.

Zumba® fuses hypnotic musical rhythms and tantalizing moves to create a dynamic workout system designed to be fun and easy to do! The routines feature interval training sessions where fast and slow rhythms and resistance training are combined to tone and sculpt your body while burning fat. Please wear shoes with little to no traction. The preferred choice is a dance/fitness shoe. No running shoes.
OAK CREEK YOGA, ZUMBA® & STRONG CLASSES ARE ENROLLING NOW!
Just fill out the short form on the side of this page and we'll send you all the information you need to choose the Fitness program that is right for you!